By night, they play gigs. By day, they sample ramen in cities across America.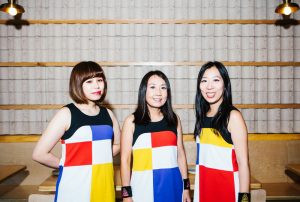 They're the three women of Shonen Knife, a legendary rock band from Japan. For over 35 years, the band has been serving up infectious punk songs with a delicious twist: Many of them are about food. Think song titles like "Wasabi," "Hot Chocolate" and "Sushi Bar." But don't dismiss them as bubblegum pop: Over the years, some of their biggest fans have included giants of alt-rock music.
This spring, Shonen Knife embarked on its latest adventure – a ramen rock tour of the U.S.
Why ramen? Well, ramen is really like Japanese soul food, says Daisuke Utagawa, a ramen restaurateur in Washington, D.C., and unofficial ambassador of Japanese food culture. "It's probably as important as your pizza here."