Chris Sayegh, known as The Herbal Chef, is turning the melding of cannabis and food into an art form. Photo courtesy of Bess Byers, imcannabess.com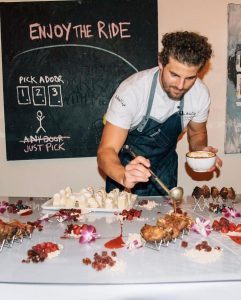 For most people the idea of mixing marijuana and food still centers on either edibles or being high and getting the munchies. But that was before the pre-cannabis boom of recent years that is turning marijuana into a more than six billion dollar business in 2016. Marijuana and all attached with it is becomingly increasingly sophisticated and cultured.
That is never more evident than dining on the remarkable melding of cannabis and gourmet food created by Chris Sayegh, known as The Herbal Chef. A gourmet chef trained at Michelin restaurants like Santa Monica, California's Melisse, Sayegh, who also is an avid weed connoisseur, turns cannabis-infused food into an art form.
At a recent dinner he hosted for attendees of Summit L.A. the ten-course tasting menu included oysters, beet gnocchi, beef, all infused with weed and all magnificent. It is an experience, one he intends to turn into Herb, a restaurant opening in L.A. sometime next year.
Given Sayegh says his catering business has grown a staggering 350 percent this year, there is absolutely no doubt his fusion of marijuana and fine dining will be one of the most talked about experiences in L.A. next year.
Steve Baltin: How would you describe this dining experience?
Chris Sayegh: We're creating a new dining experience. That's what we've been doing since I started this company. We don't want to overwhelm people, we don't want to get them too high to enjoy the experience. It doesn't serve anybody. You can imagine this line being sober, this line being overwhelmed and then right in here is the euphoric zone.